Benedict Arnold
General Benedict Arnold (1741-1801)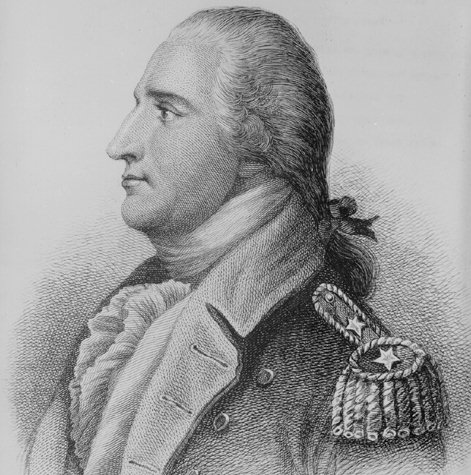 br>
Since the American Revolution, Benedict Arnold's name is used as a way of calling another person a traitor. His military exploits before his treason are all but forgotten.
Benedict Arnold advanced quickly, like many local military leaders at the start of the war. He began as Captain of his Company and was quickly promoted to Colonel. Arnold took part in the attack on Fort Ticonderoga, and led the attack on Quebec.
Arnold manned several missions that seemed almost impossible, and he was quite a hero to many American soldiers. He built a Navy to fight the British on Lake Champlain in the Battle of Valcour Island. He also saved the day at the Battle of Saratoga, one of the most important American battles. The American victory at Saratoga helped involve the French in the Revolution officially. Unfortunately, during the Battle of Saratoga, Arnold was badly wounded in his leg. This wound made the active field commands he preferred unrealistic.
Arnold was appointed commander of the city of Philadelphia following the British evacuation. There he met and married the beautiful Loyalist socialite Margaret "Peggy" Shippen. In Philadelphia many of the quarrels he held with Congress over financial issues escalated. Arnold was never popular with most of Congress, and he had problems getting costs reimbursed. During this period Arnold also engaged in some questionable dealings where he used Government property for personal gain.
As things escalated, Arnold began a correspondence with the British. Arnold convinced Washington to appoint him commander of the Fort at West Point so he could offer this to the British, even though Washington had hoped to give him something more active. Arnold's correspondence with British Intelligence Chief Major John Andre involved multiple intermediaries and continued for several months. The correspondence was resumed after Andre returned from the Carolina campaign, only to continue into September, when the conspirators tried to meet. After multiple failed attempts, Arnold and Andre finally met on September 22, 1780. The events that followed led Arnold to flee to the British, abandoning Major Andre to the Americans, and leaving his family behind American lines. Arnold quickly became the most hated man on both sides of the war. His plans failed, Clinton and the rest of society did not trust him, and Loyalists would not follow him. Few men were willing to desert to join his Legion. Several of the ones who did were actually involved in American attempts to assasinate or kidnap Arnold.
In December of 1780, Arnold was sent south to Virginia with the Queen's Rangers commander Colonel Simcoe. Arnold's attempts to conquer Virginia were bungled and vindictive. While he successfully captured Richmond, and briefly occupied Williamsburg, the Virginia campaign ended with the overwhelming defeat at Yorktown. Arnold was deployed on another mission before Yorktown, allowing him to evade capture. He was sent to attack his hometown of New London, CT in an effort to distract Washington from Cornwallis.
Arnold, his wife, and his children returned to London, in December of 1781. He died there in 1801. He was buried in St. Mary's in Battersea. During the 20 years in between, Arnold was involved in politics and investments in Canada, but he was vastly unpopular.
br>
This period engraving shows Arnold as a two-faced traitor.