Major John Andre
Major John Andre (1750-1780
Major John Andre joined the British Army to improve his station in life and find glory. He rose quickly from the rank of Lieutenant, to become Adjutant General in a period of less than three years.
Andre's rapid rise was due to patronage by elite officers like General Charles Grey and the Howe Brothers, who enjoyed Andre's entertainment offerings at the John Street Theater. Andre developed a reputation for planning parties like the infamous Mischianza Party, intended to be a goodbye for the Howes.
In New York, Sir Henry Clinton toned down the partying slightly, and Andre's duties as Chief of Intelligence occupied more of his time. Despite Andre's heavy workload, he was able to maintain a busy social life.
As Chief of Intelligence, Andre began a correspondence with his old friend and fellow party fixture Margaret Shippen, the new Mrs. Benedict Arnold. "Peggy" Shippen married the wounded bitter American general after the British left town. Soon, Andre and General Arnold were engaged in negotiations for Arnold to betray the American cause. Exactly what role Peggy played in Arnold's treason is unclear, but evidence in the Clinton Papers at Clements Library indicates she was involved.
General Arnold and Major Andre corresponded for months, pausing while Andre accompanied the British Army to the Siege of Charleston during the winter of 1780. During this correspondence, Arnold provided the British with frequent reports on American activities and plans, trying to encourage the British to give him more in exchange for his support. Arnold mostly wanted money--cash, pensions, and money-earning appointments--as a payment for his betrayal of the Americans. Andre could provide these things,and he arranged with Arnold for the British to capture the American fort at West Point, considered the key to the Hudson River, and the continent. Arnold's plans included Washington and the French leadership as prizes for the British, along with several hundred American soldiers. Arnold spent the Spring weakening the fort as he corresponded with Andre.
This self-portrait was drawn by Andre immediately before his death.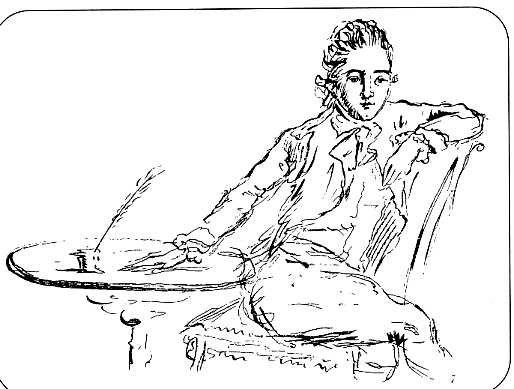 When the two arranged to meet, things started to go wrong. Andre was forced to travel back over land to try to meet up with the boat he came upriver on. Andre was behind American lines, and was convinced to change out of uniform. When bandits connected to the American Army captured him and searched his person looking for money, they found Arnold's plans for West Point and became suspicious. These bandits brought him to the Americans, and he was jailed and tried for spying, since he was captured out of uniform behind enemy lines. While the Americans offered to trade Andre for Arnold, who they really wanted to try and hang, their offer was rejected. The Americans hanged Major Andre as a spy on October 2, 1780. About forty years later, his body was exhumed and reburied in Westminster Abbey
This is Major Andre's memorial at Westminster Abbey in London.